How Long is a Bowling Alley? (Lane Dimensions)
The size of a bowling alley can be a factor in determining the overall experience. That's why bowling is governed by strict rules about playing area dimensions.
Bowling alleys are required to ensure that their bowling lanes, equipment, and maintenance levels are of high quality. This levels the playing field and ensures that bowlers have the best experience possible.
One of the confusing elements of a bowling lane is its length. As a bowler you may be asking yourself, how long is a bowling lane? Keep reading this article to learn more about the length of bowling alley lanes.
---
Are All Bowling Alleys of the Same Length?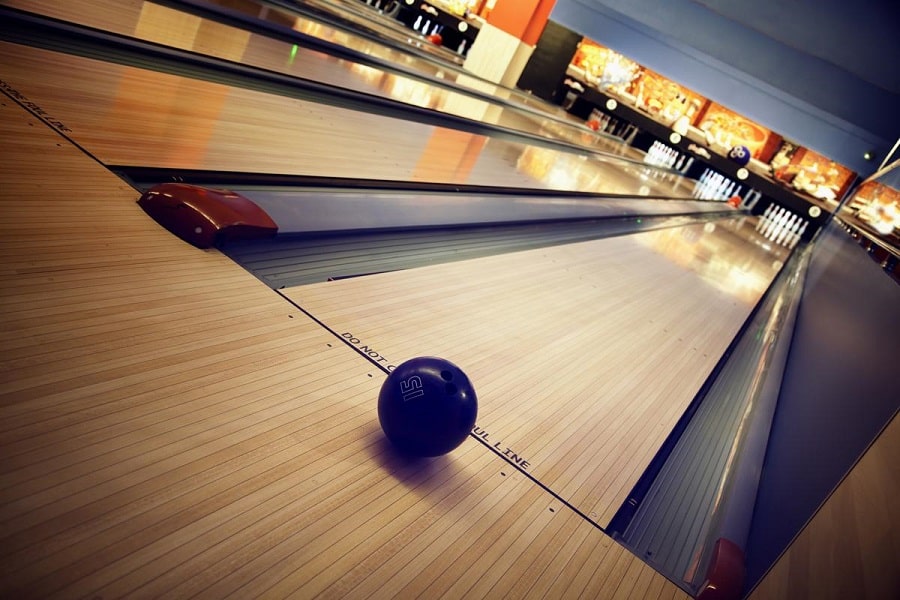 No, the length of the bowling lane can vary depending on the amount of space available. However, the standard length of a bowling lane should be at least 60 feet.
Bowling alleys are required to adhere to this regulation. Therefore, in most cases, you'll find yourself bowling on lanes as long as 87 feet or as short as 60 feet.
You should keep in mind that the size of a bowling alley may influence your game and your overall experience. You'll be more frustrated when you play on a bowling lane that's not the right size.
Your kids will also have a difficult time throwing the ball hard enough to hit pins. Similarly, adults will find a mini-bowling alley less challenging that a regulation-sized alley. Therefore, the size of a bowling alley is an important factor to consider when you venture into bowling.
---
How Long is a Bowling Lane?
Generally, a standard bowling lane should be 60 feet (18 meters) long and 41.5 inches (105.41 cm) wide. However, a bowling lane can be as long as 100 feet but all the bowling equipment should fit into the 87 feet (26.52 meters restriction. This means that the length of a bowling ball falls between 60 feet and 87 feet.
The bowling alley is made up of different parts that make up this length. Some of the parts of a bowling lane include:
The Approach: This is the area at the start of the bowling lane where the bowler stands. It makes up around 15 feet from the foul line. A bowler used this area to take their approach before releasing the ball. This adds momentum to the throw and allows the ball to hit the pins with force.
Foul Line: This is a well-marked line at the beginning of the lane after the Approach. It is approximately 1-3/8″ broad. A bowler is required to release the ball when they approach the foul line. If they overstep this line their throw will be voided.
The Lane: Stretching 60 feet from the foul line, this is the main part of the bowling alley. This part is made of a hardwood surface and coated with various oil patterns to increase its smoothness and create different lane conditions. The ball travels down the lane before reaching the pins.
The Pin deck: These are the last 2 feet of a bowling lane where the ten pins are kept, collected, and rearranged. The pin spotter is the machine that ensures this is achieved by setting up the pins and clearing away the knocked-down pins.
You should also keep in mind that bowling lanes have gutters on either side that the ball can fall into. These different parts of a bowling lane can vary in length and width leading to variation in the lanes.
---
How Long is a Mini Bowling Alley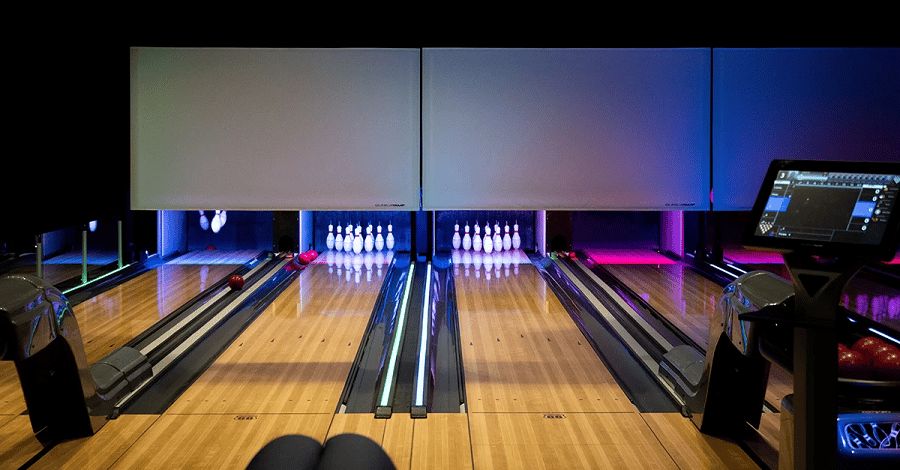 If you don't have enough space for a standard bowling alley, you should consider setting up a mini bowling alley. Mini bowling alleys are typically shorter in length and can fit into spaces between 36 feet and 45 feet long. The width of the lane and the size of the balls and pins are also smaller than a standard bowling alley.
Mini bowling alleys are common in smaller spaces such as arcades or bowling alleys with limited space. Due to their small size, smaller equipment, and different scoring system, mini bowling alleys are more accessible and friendly to children than standard bowling alleys.
---
Home Bowling Alleys Vs Regulation Bowling Alleys
While both home and regulation bowling alleys allow bowlers to play the sport of bowling, the experience can be quite different. Let's have a deeper look at home and regulation bowling alleys.
Home bowling alleys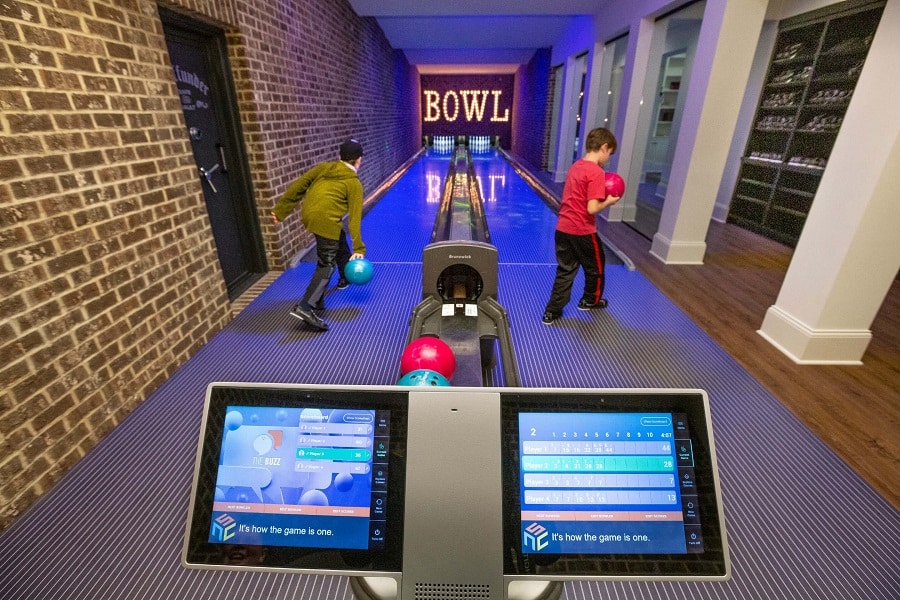 Home bowling alleys are bowling lanes that are installed in private homes. They are generally smaller and narrower than regulation bowling alleys. Therefore, after practicing at a home bowling alley, you'll be required to adjust your bowling techniques to get the desired results when you play in a commercial bowling alley.
The length and size of a home bowling alley depend on the buyer's preferences and the size of the room. If you would like to install home bowling alleys in your home, you should consider the bowler's area, the pinsetters, the lanes and their spacing, and the length of the lanes.
They are usually installed in basements, garages, or other large rooms that can accommodate the size of the lane. In most cases, your rooms are probably around 700 square feet. However, you can consider installing the lanes in slightly larger rooms to play with longer lanes.
Regulation bowling alleys
Regulation bowling alleys are bowling lanes installed in commercial settings such as bowling centers, arcades, and other entertainment venues. These lanes are built to specific regulations and standards and typically range in length from 60 feet to 80 feet, similar to a standard bowling alley.
You'll need a space at least 100 feet long or wide when going to a regulation bowling alley. This will make it easy for you to accommodate the lane, the pinsetter, the ball return system, and other odds and ends. If you don't have enough space, it's better to go to a smaller bowling alley.
Regulation bowling alleys usually have more amenities than home bowling alleys and are open to the public. Therefore, they are built to handle the wear and tear of frequent use and are usually maintained by experienced professionals. They are required to strictly follow the set standards to ensure consistency in the size, shape, and length of the lanes and oil patterns.
---
Factors to Consider When Choosing the Size of a Bowling Alley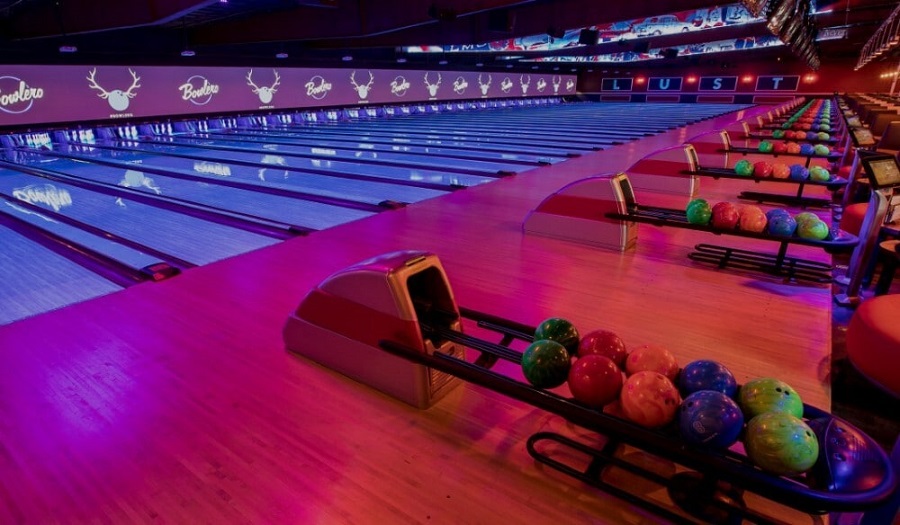 When setting up a regulated bowling alley, you'll be required to meet the set standards. However, this is not always the case for home bowling alleys. When purchasing a bowling alley for residential use, you'll have to look at more than the standard dimensions. It's important to consider a wide range of factors before choosing the size of your bowling alley. Some of the things you'll need to consider to ensure that your bowling alley is a good fit for your household include:
How often do you bowl
If you are not a regular bowler, it's best to choose a smaller bowling alley. This is because you'll not want to take up too much space on something you rarely use. However, regular bowlers should go as big as possible and if possible, install a regulation-sized bowling alley.
The costs
A regular bowling alley is considerably more expensive than a mini bowling alley. It will cost you around $120,000 to $150,000 to install a simple two-lane regular bowling alley. On the other hand, a mini-bowling alley will cost around $50000 to install two lanes, including the bowling balls and pins.
While the prices may vary depending on the additional amenities you'll want in your home bowling alleys, you should figure out what best fits your budget. Some bowling alleys can be as cheap as $18000 but with less durability and performance.
The size of the bowling alley you're used to bowling on
As said earlier, the size of your bowling alley may affect your performance skill level, and scoring ability. If you play in a mini-bowling alley, you may be quite frustrated when you switch to a regulated bowling alley. You can avoid this by choosing a bowling alley close to where you usually play. This will help you keep your game on top, rather than underwhelming your skills with a smaller alley or overwhelming yourself with a larger alley.
---
Conclusion
The standard size of a bowling alley is between 60 feet and 80 feet. While the length of regulation bowling alleys is standardized, home bowling alleys are easily customizable. Therefore, it is important to consider the space available, your budget, the number of lanes, the type of bowling, and plans when choosing the size of a bowling alley. After choosing the right size for your bowling alley, you can go ahead and install it in your home.