How Much Does a Home Bowling Alley Cost?
You can never go wrong with installing a bowling alley in your home. It gives you an excellent opportunity to bond with loved ones and host friends and family. But how much does a bowling alley cost? Keep reading to find out!
A home bowling alley might be a good option if you're a competitive bowler or want to relax after a long day. The price of building a bowling alley in your house will depend on the amenities and features you want.
In this article, you will learn more about home bowling alley costs, what you should consider before building a home alley, the average price of having a bowling ball drilled, and more.
---
What's the most incredible home bowling setup?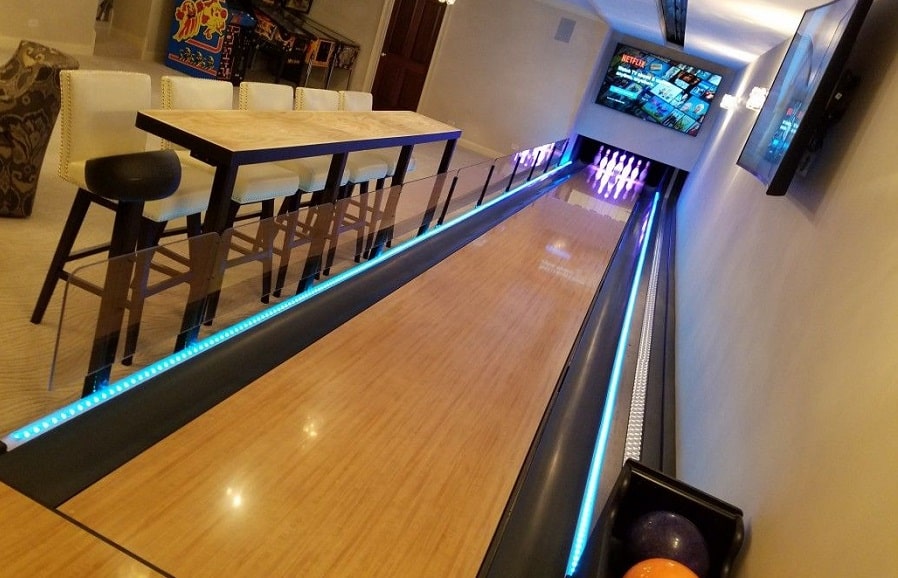 With a mini bowling system, even houses with little square footage can have bowling parties with friends and family and enjoy all the sport's enjoyment. Mini bowling systems are fantastic because they let you enjoy bowling with friends and family while having little room and requiring minimal upkeep. The tiny bowling system is just around 27 feet in length, making it simple to set up in almost any house room.
In addition, you may choose the size of your system and the number of lanes in your house to suit your needs and preferences. Still, it would help if you thought about ceiling height to avoid damaging your ceiling and to keep the area from seeming too cramped after installing the mini bowling equipment. The bowling systems need a ceiling height of at least 12 feet to operate without causing structural damage.
---
What should one consider before building a bowling alley at home?
A bowling alley requires a minimum length of roughly 18 meters, so keep that in mind while selecting a location. You should have a space of 25 meters in size so that you have a gathering place before the lane.
Consider the design of the pins you will use. The traditional method of a bowling alley is plain, white pins. If you're searching for something exceptional, you may choose from various alternative styles and customized possibilities.
---
How long would it take to construct a home bowling alley?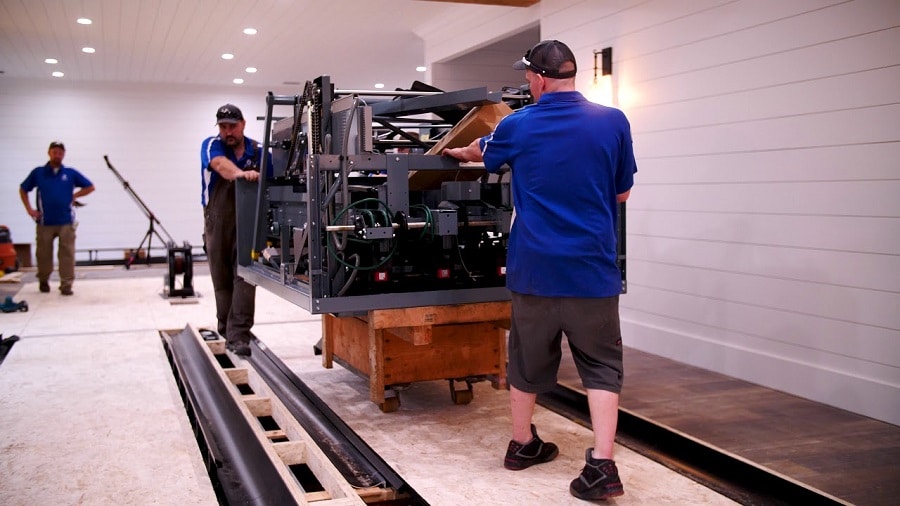 If you are interested in knowing how long it will take to construct a home bowling alley, you shouldn't worry; it's not as tricky or pricey as you would imagine.
Most people use their basement or garage and some common construction materials to construct their bowling lanes at home. Making the bowling alley itself is the first order of business, and it's easy to build with a few pieces of plywood and some sawhorses.
Building a standard-sized bowling alley takes at least a week and sometimes closer to 11 days. Add another week or more to the schedule to account for the time needed to get permits and pass inspections.
---
Which factors determine the cost of a home bowling alley?
The furniture do you prefer for your home Bowling? Do you have bowling alley-style chairs installed, or will you be utilizing folding chairs from the garage instead? What about some sofas and reclining chairs to make things cozier? The greater the quality of the furnishings you choose, the more you may expect to pay for them. Bowling alley furniture may cost four figures or more, but if you hit the thrift stores, you can furnish a whole lair for a few hundred.
The Bumpers you choose will affect the cost. Although automatic bumpers are more convenient, manual bumpers are effective in the same situations. Please make sure you need bumpers before you go out and get them. Do you intend to spend your time with friends who will need the bumpers? Although bumpers are helpful and need planning and installation, they are prone to scratching under certain conditions.
---
Does Having a Bowling Alley Raise the Value of Your Home?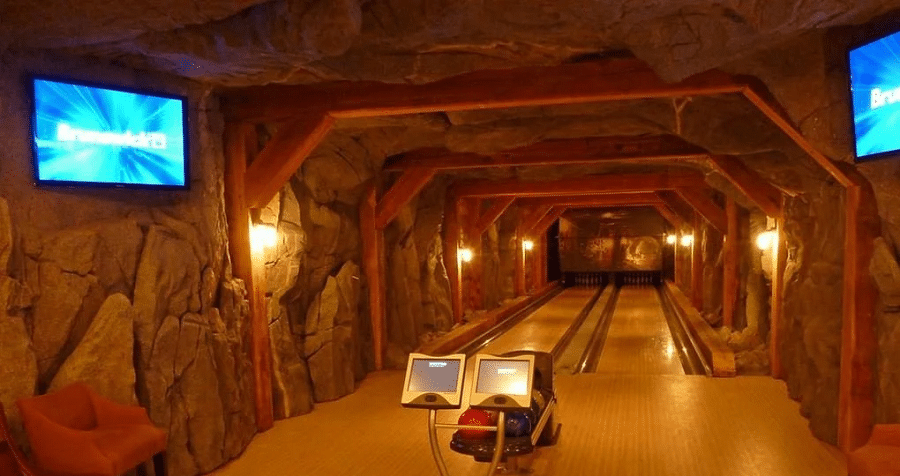 Having a personal bowling alley is a fun way to spend hours with loved ones and friends, and you may even make a few new pals along the way. Another benefit is that you can work out without leaving home. The sport of bowling combines a pleasant social outing with the health benefits of physical activity.
In addition, the lane might serve as a gathering spot for your kids and their friends if you have any. However, bowling lanes have high upfront and ongoing costs and need much room to thrive.
---
What Is the Average Price of Having a Bowling Ball Drilled?
Depending on the bowling pro shop, the price to have a ball drilled might range from $20 to $50 or more. However, the total cost varies based on the store you visit, the number of holes you need drilling, whether or not you need the thumb hole, and whether or not you choose any other services in addition to the drilling.
---
Budgeting for Your Indoor Bowling Center's Upkeep and Repairs
After constructing your bowling alley, it's essential to factor in the ongoing upkeep costs. The equipment you prefer and your frequency will determine your maintenance costs.
If you go with the minimum, annual upkeep can cost anywhere from $1,000 to $10,000. In contrast, yearly upkeep costs for a more complex system range from $6,000 to $20,000.
Therefore, you should consider the price of the bowling alleys equipment and installation and the cost of upkeep while budgeting for a home bowling alley.
---
How Much Does It Cost to Buy a Used Bowling Center?
Used bowling alleys might be affordable, but you still need to budget for the price of the equipment and the labor to set it up. You can find an excellent secondhand bowling alley for costs between $8,000 and $15,000.
---
Is it a good Idea to Invest in a Bowling Alley?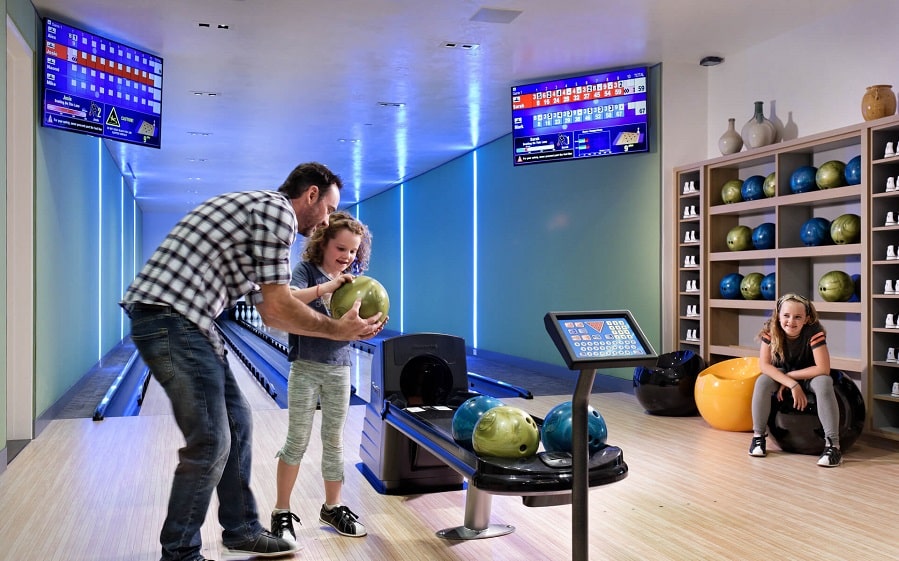 Yes, its bowling alley is a good investment. Still, its ability to turn a profit depends on its proximity to potential customers, the square footage available for bowling, and the quality of the bowling lanes and other fixtures. Moreover, if run efficiently, bowling lanes are an excellent financial opportunity.
---
How can a bowling center make a profit?
There are many revenue streams for bowling centers, such as admission fees and the sale of beverages and food. Some bowling centers also generate money from other games they provide, such as arcade machines and pool tables. One more thing: some bowling alleys hire out their facilities for parties and other gatherings.
---
Conclusion
A bowling alley in your home will give you hours of enjoyment for you and your family. How much it will cost to construct a bowling alley in your backyard is determined by its length and the type of pins you choose. If you're interested in purchasing a pre-owned vehicle, you can expect to pay between $8,000 and $15,000.