Best Bowling Ball for Dry Lanes [Reviews Inside] 2023
Playing a ball on a dry lane is a great challenge for both professional and non-professional bowlers. But once you choose the best bowling ball for dry lanes, it will be easier for you to play in such conditions. This full guide will help you on choosing the best ball suitable for a dry lane, plus what to consider while choosing the best dry lane ball.
If you want to be part of the pros and break into the big leagues, you must be proficient on all track surfaces, both in oily and dry lane conditions. However, to achieve this, you need suitable bowling balls. Dry lanes pose a challenge to bowlers because they increase friction in the bowling bowl, resulting in early hooks and more ball movement, increasing the likelihood of chaotic strikes. We list the best bowling balls to ensure you strike perfectly. Read on!
---
Choosing the Best Dry Lane Balls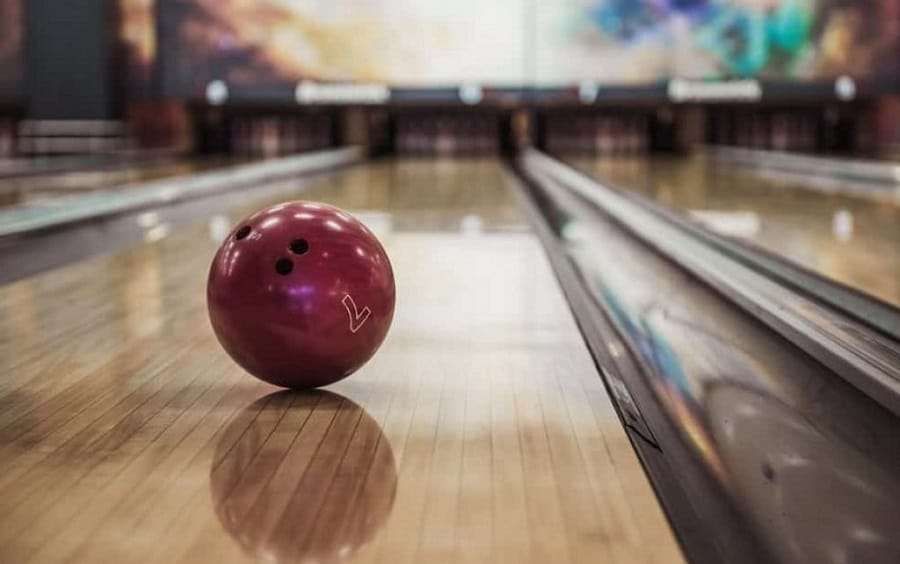 Every bowling ball on dry lanes has specifications to consider when choosing the most suitable one. The specifications to take into consideration include the following.
Weight – Choosing the correct ball weight protects you from injuries and increases your chances of success. The weight of the ball you go for should be at most 10% of your body weight.
Coverstock material – Bowling balls suggesting little to no friction are the best for dry lanes. The dry lane condition requires using poly urethane bowling balls and plastic balls. The polyester balls have designs that make a straight throw.
The decent hooking potential of a coverstock – The urethane balls are designed to hook with control. It is best to go for a light hook potential for dry lanes. With this, you can make a slight action with slow movement to increase your entry angle and throw the ball, resulting in a perfect strike on dry lanes.
Core – For dry lane, go for symmetrical balls. They create a smooth and regular arc that provides more control and predictability on the ball. It gives the ball more stability, allowing you to hit it more accurately, minimizing chances of erratic shots.
---
Best Bowling Ball for Dry Lanes
Below are the best bowling balls for a dry lane.
1. Storm Mix Blue / Silver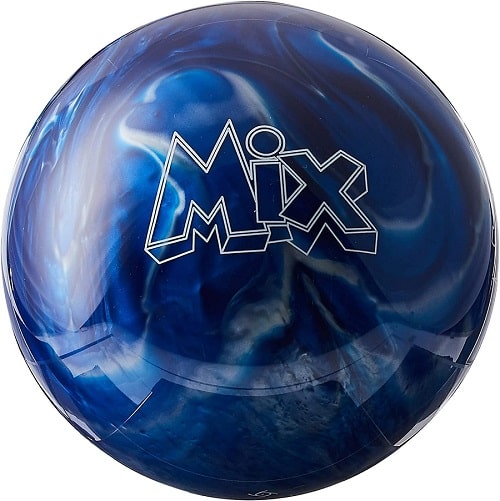 Storm mix blue is the best bowling ball in the market, suitable for dry lanes. The ball is predictable and usually acts as a spare ball when thrown. It has a symmetrical design of the weight block that ‌reduces the pressure from the bowlers and increases their shot speed while maintaining the path of the dry line.
The ball has the following advantages and disadvantages.
Advantages
The ball is easy to control hence giving predictable performance under any conditions.
Compared to how good it is, the ball is relatively cheap
The ball is more durable. Manufactured with pearl coverstock, it is more durable and performs exceptionally.
It's made of light materials, making it lightweight, so you get a better radius of gyration with the design.
Storm mix blue has a flare potential, making it perfect for control in dry lane conditions.
Disadvantages
However, the storm mix blue can get straight and narrow when a bowler needs a more aggressive hook in their shots.
Its fast speed can be destructive in your hook.
2. Hammer Purple Pearl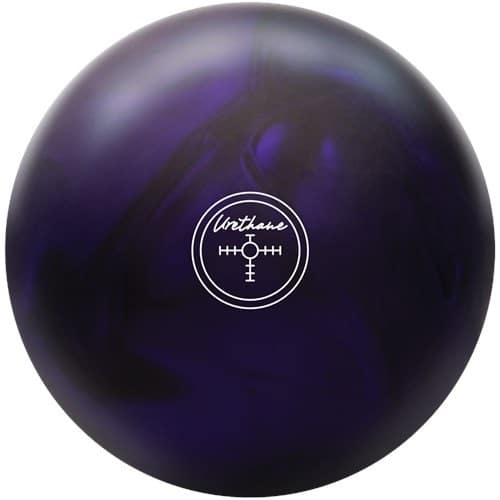 It is one of the most comfortable bowling balls to use while playing on a dry lane surface. It has a design like that of a light bulb which looks like the popular older balls. Hammer purple pearl has the latest and old technologies for correcting the length and aggressiveness of a reaction on a dry lane surface. It has the following advantages and disadvantages.
Advantages
It has an advanced urethane cover stock that provides reasonable control for the entire length of the lane.
It has a classic design, a urethane core, and a symmetrical distribution pattern that makes it easy to control.
The ball is user-friendly even for beginners since it provides professional angles making it easy to make a perfect strike.
Disadvantages
By controlling the aggressiveness of the ball, Hammer Purple pearl provides a mild reaction while making a throw; this might affect a bowler's strikes.
The ball has a limited weight option. While other balls like storm mix blue can come in wide varieties of weights, hammers purple pearl only comes in three weight options.
 It has only older cover stock. It is a disadvantage to bowlers seeking a modern cover stock to better their performance.
3. Pyramid pathogen Plague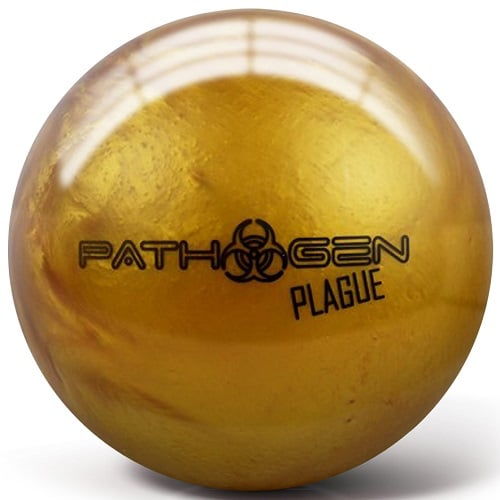 Pyramid Pathogen Plague is a prevalent ball among professional bowlers, and it is known for its fantastic performance and unique design. It has the following advantages and disadvantages.
Advantages
It has an engineered urethane coverstock that can generate maximum performance on a dry lane.
The ball has a smooth control that allows the ball to hit the most pins creating a fantastic performance.
The urethane coverstock provides convenience and elegance making it to be visually striking.
It is specifically designed for dry lane performance. Pyramid Pathogen Plague has a solid finish of the urethane coverstock, making it more durable while providing high performance.
The ball has a flare potential of around 3 – 4, making it migrate in a controllable manner.
The ball has a New Era 138 core that gives it excellent motion with a medium radius of gyration, which is a perfectly controlled motion for correct hooks.
Disadvantages
The ball has an aggressive reaction that is hard to control while playing on a dry lane, especially for beginners. It is most suitable only for regular practice.
Its aggressiveness requires only professional players to use it while playing. The unprofessional bowlers must first learn essential skills for making a straight throw using the ball.
4. Hammer Black Widow Spare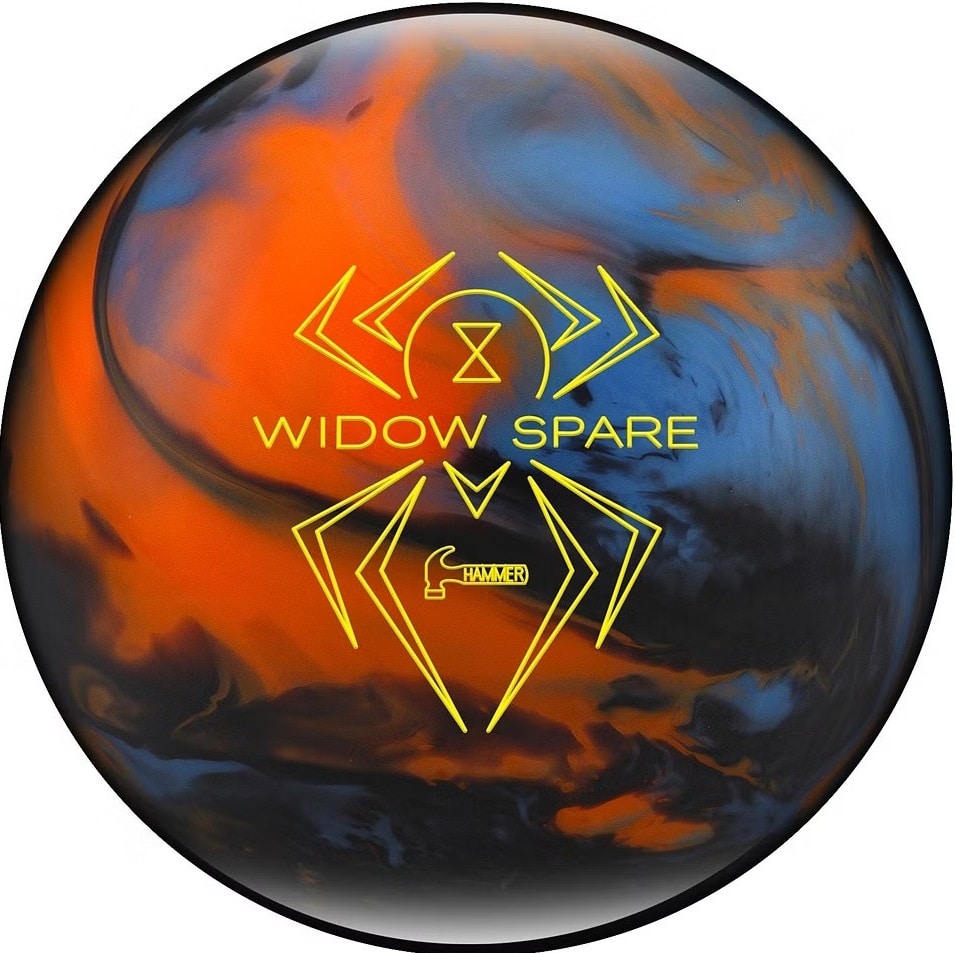 It has a good design with polyester fulfilling the need of professional bowlers. It has the following advantages and disadvantages.
Advantages
It has a unique core that provides a great reaction without having highly aggressive moves.
Its polyester coverstock makes it an excellent option for spare ball conditions.
Its design gives it a straight reaction when thrown.
Disadvantages
It has a polyester reaction from its unique polyester features that makes it too aggressive from the back end.
5. Brunswick Twist Sky Blue/Pink/Snow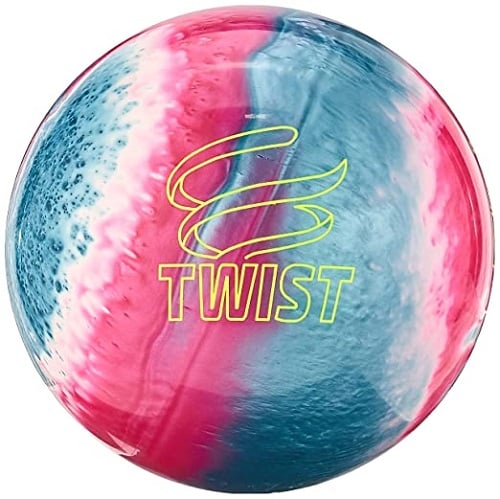 This high-quality ball comes with different designs for dry back ends at quite a reasonable price. The following are its advantages and disadvantages:
Advantages
The ball comes in various options where you can make a wide selection. It has different weights, colors, and twist designs at a similar price range.
It has a dry lane hook that is proficient for moving the ball through the front of the straight dry lane, generating a great reaction.
Its design gives it a smooth and gentle motion making it more predictable.
Disadvantages
The ball has twist-core differences. The 8 and 11 lbs versions differ from the 12 to 16 lbs versions, affecting its control.
---
Conclusion
Making the best bowling ball selection for a dry lane is crucial because it affects how well you bowl. Consider the essential features of a ball that suits you to ensure you do not face any difficulty while throwing the ball.